Sage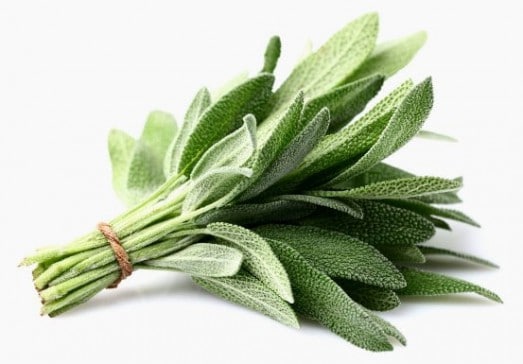 Sage is used for digestive problems, including loss of appetite, gas (flatulence), stomach pain (gastritis), diarrhea, bloating, and heartburn. It is also used for reducing overproduction of perspiration and saliva; and for depression, memory loss, and Alzheimer's disease.
Women use sage for painful menstrual periods, to correct excessive milk flow during nursing, and to reduce hot flashes during menopause.
Sage is applied directly to the skin for cold sores; gum disease (gingivitis); sore mouth, throat or tongue; and swollen, painful nasal passages.
Some people inhale sage for asthma.
Special Precautions & Warnings:
Sedative medications (CNS depressants) interacts with SAGE
Sage might cause sleepiness and drowsiness. Medications that cause sleepiness are called sedatives. Taking sage along with sedative medications might cause too much sleepiness.
Some sedative medications include clonazepam (Klonopin), lorazepam (Ativan), phenobarbital (Donnatal), zolpidem (Ambien), and others.
Pregnancy and breast-feeding: Taking sage during pregnancy is LIKELY UNSAFE because of the possibility of consuming thujone, a chemical found in some sage. Thujone can bring on a woman's menstrual period, and this could cause a miscarriage. Avoid sage if you are breast-feeding, too. There is some evidence that thujone might reduce the mother's milk supply.
Diabetes: Sage might lower blood sugar levels in people with diabetes. Watch for signs of low blood sugar (hypoglycemia) and monitor your blood sugar carefully if you have diabetes and use sage. The dose of your diabetes medications may need to be adjusted by your healthcare provider.
Medications for diabetes (Antidiabetes drugs) interacts with SAGE
Sage might decrease blood sugar. Diabetes medications are also used to lower blood sugar. Taking sage along with diabetes medications might cause your blood sugar to go too low. Monitor your blood sugar closely. The dose of your diabetes medication might need to be changed.
Some medications used for diabetes include glimepiride (Amaryl), glyburide (DiaBeta, Glynase PresTab, Micronase), insulin, pioglitazone (Actos), rosiglitazone (Avandia), chlorpropamide (Diabinese), glipizide (Glucotrol), tolbutamide (Orinase), and others.
Hormone-sensitive condition such as breast cancer, uterine cancer, ovarian cancer, endometriosis, or uterine fibroids: Spanish sage (Salvia lavandulaefolia) might have the same effects as the female hormone estrogen. If you have any condition that might be made worse by exposure to estrogen, don't use Spanish sage.
High blood pressure, low blood pressure: Spanish sage (Salvia lavandulaefolia) might increase blood pressure in some people with high blood pressure, while common sage (Salvia officinalis) might lower blood pressure in people with blood pressure that is already low. Be sure to monitor your blood pressure.
Seizure disorders: One species of sage (Salvia officinalis) contains significant amounts of thujone, a chemical that can trigger seizures. If you have a seizure disorder, don't take sage in amounts higher than those typically found in food.
Medications used to prevent seizures (Anticonvulsants) interacts with SAGE
Medications used to prevent seizures affect chemicals in the brain. Sage may also affect chemicals in the brain. By affecting chemicals in the brain, sage may decrease the effectiveness of medications used to prevent seizures.
Some medications used to prevent seizures include phenobarbital, primidone (Mysoline), valproic acid (Depakene), gabapentin (Neurontin), carbamazepine (Tegretol), phenytoin (Dilantin), and others.
Surgery: Common sage might affect blood sugar levels. There is a concern that it might interfere with blood sugar control during and after surgery. Stop using common sage as a medicine at least 2 weeks before a scheduled surgery.
Historical Use
Sage has one of the longest histories of use of any culinary or medicinal herb. Ancient Egyptians used it as a fertility drug (Bown, 1995). In the first century C.E. Greek physician Dioscorides reported that the aqueous decoction of sage stopped bleeding of wounds and cleaned ulcers and sores. He also recommended sage juice in warm water for hoarseness and coughs. It was used by herbalists externally to treat sprains, swelling, ulcers, and bleeding.
It was also used by herbalists for rheumatism, excessive menstrual bleeding, and to dry up a mother's milk when nursing was stopped. It was particularly noted for strengthening the nervous system, improving memory, and sharpening the senses. Sage was officially listed in the United States Pharmacopoeia from 1840 to 1900.
Sage can be used fresh or dried both as a culinary herb and medicinal herb. Sage can be taken as a tea, and the infusion can used externally as a skin and hair rinse, and as a gargle for sore throats. Liquid extracts can be diluted with water and easily applied to teeth and gums. The essential oil is used sparely, and is never ingested. White sage is burned as incense in Native American ceremonies.
Preparation and Dosage
Internally, a tea made from sage leaves has had a long history of use to treat sore throats and coughs; often by gargling.
The infusion when made for internal use is termed Sage Tea, and can be made simply by pouring 1 pint of boiling water on to 1 OZ. of the dried herb, the dose being from a wineglassful to half a teacupful, as often as required, but the old-fashioned way of making it is more elaborate and the result is a pleasant drink, cooling in fevers, and also a cleanser and purifier of the blood. Half an ounce of fresh Sage leaves, 1 OZ. of sugar, the juice of 1 lemon, or 1/4 OZ. of grated rind, are infused in a quart of boiling water and strained off after half an hour. (In Jamaica they would sweeten Sage Tea with lime-juice instead of lemon.)
When a more stimulating effect to the throat is desirable, the gargle may be made of equal quantities of vinegar and water, 1/2 pint of hot malt vinegar being poured on 1 OZ. of leaves, adding 1/2 pint of cold water.
SOURCES
---
---